Hollywood California MD Body Work & Day Spa
OUR NEWEST LOCATION
Our new Spa Hands of Gold Hollywood in California, MD location has been a hit! Our team wants to thank everyone in the community for their support! Our loyal customers like you have fueled continued growth, making us confident that opening a second location in California, MD will continue to be successful. Come by our new location and checkout our services, including acupressure point treatments, aroma therapy, reflexology and reiki.
Due to availability, each shop location is able to offer different services. Have you ever had the luxury of a Vichy Shower Water Treatment? Our new location now offers this intensely relaxing hydro-massage experience. Feel free to call with any questions.
Appointments
Our online appointments are now available. Feel free to call the shop at (240) 237-8023 or (240) 237-8448 to schedule an appointment or book online now!
Call:
(240) 237-8023
(240) 237-8448
23415 Three Notch Rd, Unit 2039
California, MD 20619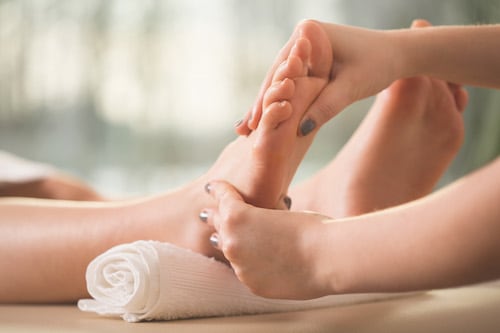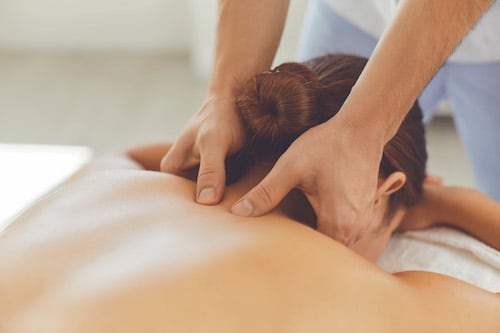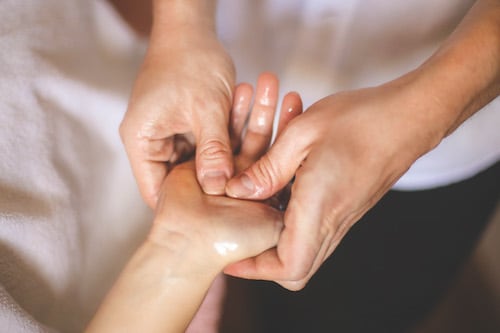 Day Spa Services
Vibrant Boutique Setting – Fully Licensed and Insured massage therapists on staff – 100% Guarantee You'll Walk Out Feeling Amazing
Acupressure Point Treatments
Promotes relaxation and wellness and treats diseases. Acupressure is often thought of as simply acupuncture without the needles.
Aroma Therapy
The use of essential oils for physical and emotional health and well being.
Reflexology & Reiki
Reduce stress and promote healing with one of our body healing treatments.
Natural Himalayan Salt Scrub
Everyone deserves to take care of their beautiful skin with one of the world's purest salts. Great for skin nourishment.
Couples Packages
Couples receive massage at the same time and in the same room from two different therapists. Candle Lights Upon Request.
Massage Therapy
Our wide selection of treatments will leave you relaxed, rejuvenated, and refreshed.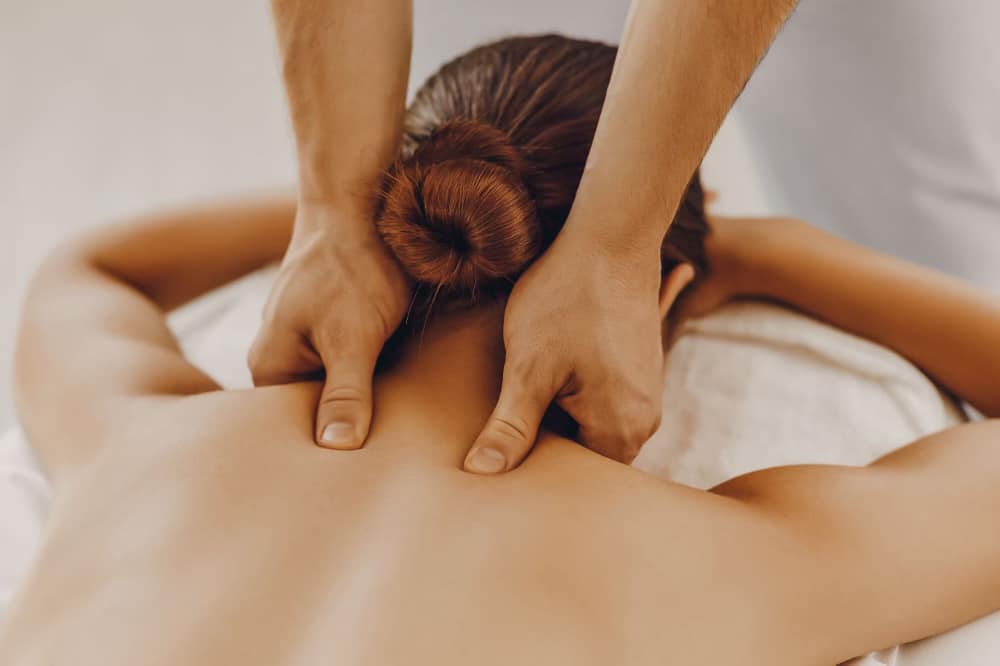 Featured Service
Acupressure Therapy
Acupressure therapy stimulates the body's circulatory, lymphatic and hormonal system.
According to traditional Chinese medicine, applying pressure to these points helps diffuse the blocked meridian, restores balance, and relieves pain.
It relieves stress, tension and anxiety. It improves sleep and relaxes muscles and joints – soothing the pain and discomfort of a sports or other …!!
New Policy: Mandatory Showers
To continue to keep our staff and our customers safe, we ask that all customers take a shower prior to their appointment. We have found this is the best way to keep everyone safe while Covid is still affecting so many in our community.
What this means:
Upon arrival, you must take a shower in our shop*
*The only exception is if you took a shower at home and come straight to your appointment with us.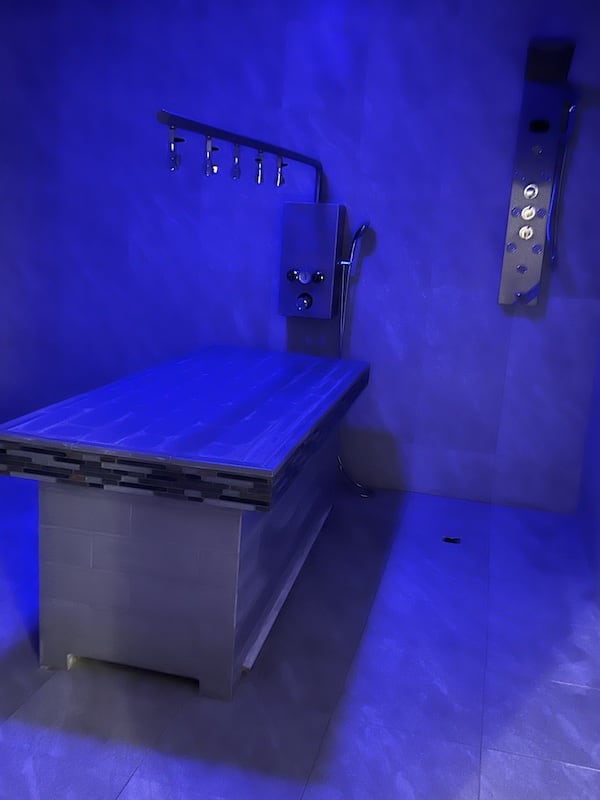 Vichy Shower
Vichy shower can be reserved only for ONE person at a time
One of our new signature treatments – Vichy Shower is a luxurious water treatment that detoxifies, hydrates and is intensely relaxing, both spiritually and physically. It is performed in our specially designed wet treatment room with our Vichy Shower. As you lie on a comfortable waterproof treatment bed, six individual shower heads on a horizontal "rain bar" provide you with soothing warm hydro-massage. The combined effects result in the ultimate relaxation experience and is ideal for maximizing anti-stress treatment benefits, relieving aches and pains and stimulating blood circulation. Vichy Showers have real benefits to the body. Let's line them up:
BENEFITS OF VICHY SHOWERS
increases circulation throughout your body
detoxifies — dramatically eliminates waste in your body
boosts your immunity
lowers blood pressure
improves the functions of internal organs
increases metabolic rate and digestion activity
firming and toning of your skin
loosens tight muscles
relaxes and rejuvenates
can facilitate weight loss
can promote better sleep
Book an Appointment Online
We want to make booking an appointment with us as easy as possible. Click below to schedule an appointment now. Please read our spa policy to see if any notes need to be mentioned while booking.
Spa Policy
Please notify us of any medical conditions at time of booking.
Please arrive 15 minutes prior to our appointment to make any preparations required.
The spa is open to all ages 18 and above.
Please notify spa if any guests are underage prior to the appointment and are to be accompanied by a guardian within the premises.
All appointments will start at the scheduled time and any late arrival will be subject to a shortened appointment as not to delay any other appointments.
Cancellation Policy
We ask that cancellations be made 24 hours before your appointment.
Pricing Policy
Prices and services are subject to change without notice.
All gift certificates* and packages and vouchers are final and non-refundable.
Feel free to contact us with any questions you may have at (240) 901-2053
*Gift certificates must be redeemed within 6 months of purchase date. Expired gift cards are not accepted.
Frequently Asked Questions
Can someone help me choose a spa experience?
Our staff is trained and at your service to help with selecting your treatments making this a great spa experience.
What precautions do I need to take?
For your convenience we suggest you eat with moderation prior to your spa appointment and avoid alcohol, as this may cause the rescheduling or cancellation of your treatments. Avoid showering before a body scrub. Sunburn can prevent you from enjoying your treatment.
What if I have a health problem?
It is important to notify spa staff when you make your reservation, and report if your are in any stage of pregnancy.
What should I wear for my spa appointment?
Wear your clothes that are the most comfortable. For your convenience, you can choose to undress completely or keep your undergarments on. For body scrubs, we will provide you with disposable underwear. Please remember to not bring any valuable items to the spa. The spa is not responsible for lost or forgotten objects.
What if I want to cancel or I am late for my appointment?
If you want to cancel you must notify at least 24 hours in advance to avoid a penalty of 50% of the regular price of the treatment. A change of appointment will be at least 4 hours in advance. Being late for your appointment may be cause "remaining time" of the treatment.
How can I pay for my appointment?
You can pay online during the process of making your appointment. You can also use your debit or credit card, cash and we also accept Apple pay. We recommend making your reservation as early as possible, ensuring the availability of your treatments. For more information please search our website online or visit our lobby.
Come On In
23415 Three Notch Rd
Unit 2039
California, MD 20619